SSMS Tools Pack 1.9

Consiglio a tutti gli appassionati di SQL Server un add-in che non può mancare tra i loro tools, sto parlando dell' SSMS Tools Pack.
L' Add-in è valido per le versioni di SQL 2005 e 2008 e cosa più eccezionale è completamente free! 🙂
Ecco la lista delle nuove funzionalità :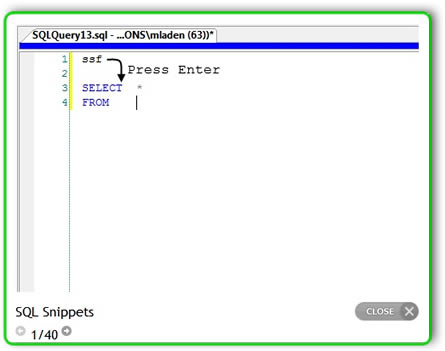 SQL Snippets
Window Connection Coloring
Query Execution History and Current Window History
Format SQL
Search Table, View or Database Data
Run one script on multiple databases
Copy execution plan bitmaps to clipboard or file
Search Results in Grid Mode
Generate Insert statements from resultsets, tables or database
Regions and Debug sections
Running custom scripts from Object Explorer
CRUD stored procedure generation
New query template
General options
Sul sito ufficiale ci sono ben 40 Â screenshot del prodotto, che ho trovato molto utili per capire al volo tutte le nuove caratteristiche.
Ringrazio tantissimo Davide Mauri per la segnalazione di questo imperdibile tool tramite il sito UGISS ormai punto di riferimento di tutti i DBA e Sviluppatori SQL Server.


settembre 19, 2010 ·

admin ·

3 Comments


Posted in: Programmazione, SQL